Let's get virtual..
During these uncertain times with COVID-19, where we are socially isolating and deprived of human interaction, we can count on technology, the internet and social media to keep us connected.
Since most companions are choosing to not take in-person bookings for the foreseeable future due to this pandemic, we must come up with other ways to maintain our relationships with clients and to continue our livelihood.
It is lucky that I have been interested in exploring different avenues of connecting with clients aside from in-person dates. This is especially suitable for this time, and also into the future.. perhaps for clients who are long-distance and do not always make their way into Toronto and want to stay in touch or have a small piece of me for themselves.
-
VIRTUAL GFE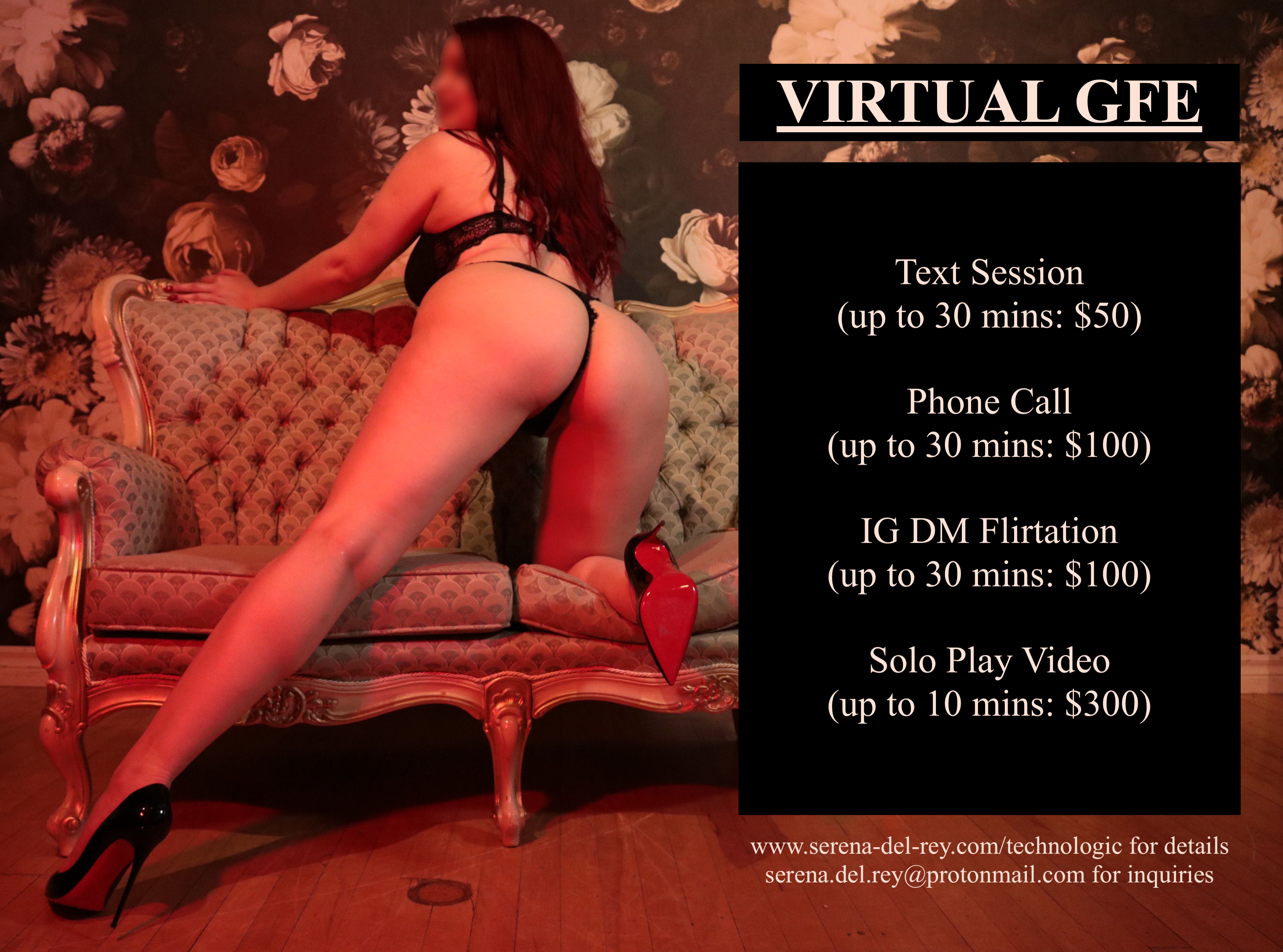 -
Text Session
(up to 30 mins: $50)
or
Phone Call
(up to 30 mins: $100)
A quick pick-me-up, whether it be some sexy phrases that you want to hear from someone to give you that sweet release, or someone who will listen to you talk about your day and how you are feeling.

-
Instagram Direct Message Flirtation
(up to 30 minutes: $100)
Slip into my DM's and let's exchange some messages and a few fleeting photos and video clips to stimulate some excitement. I do not show my full face in photo or video.

-
Solo Play Video
(up to 10 minutes/ as long as it takes for me to cum: $300)
Get a peek into my most intimate time alone. If you want, you can pick what toys I use out of my collection. This is recorded for you. I do not show my full face in video.
This is only available for regular clients.
-
VIRTUAL FEMDOM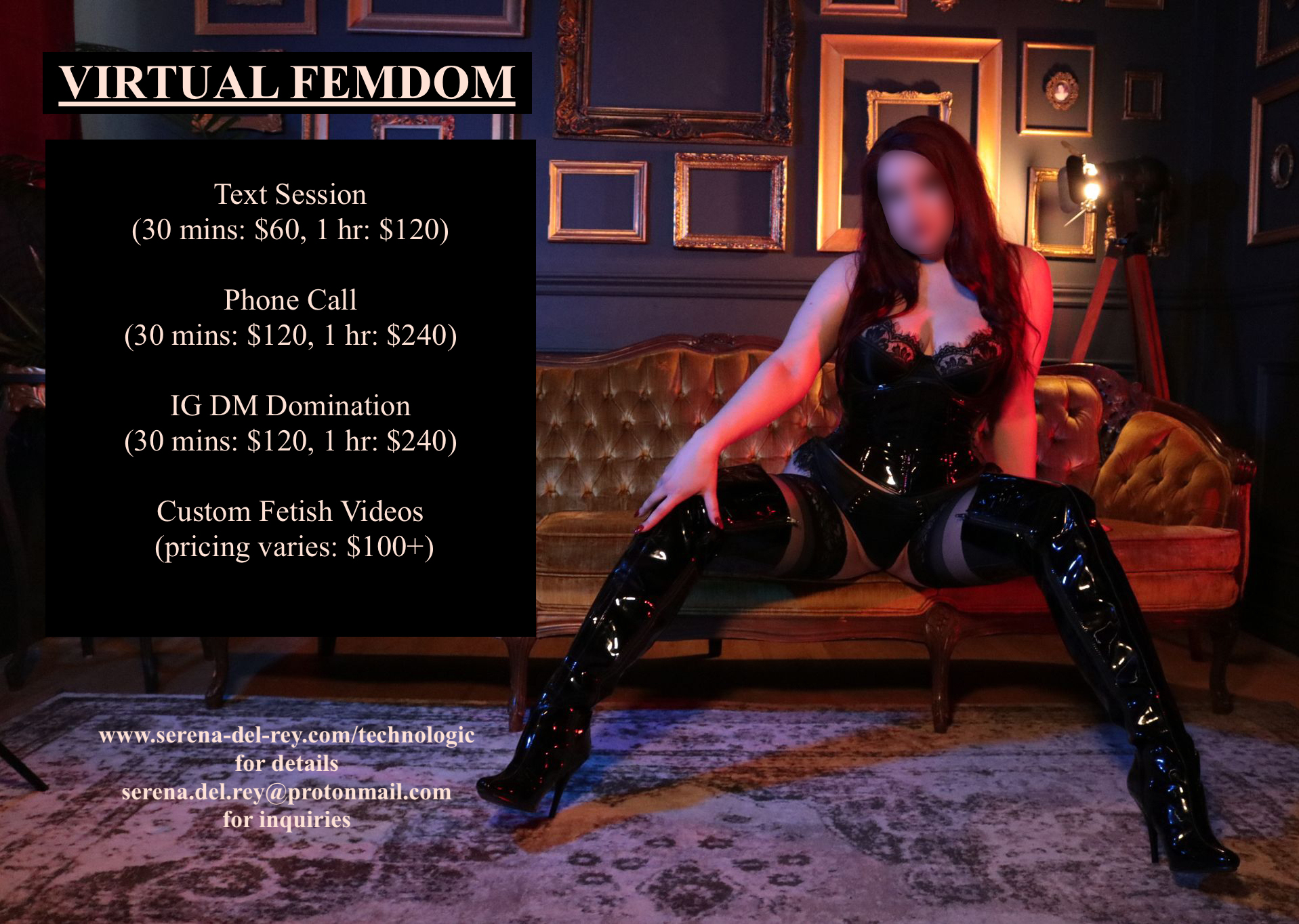 -
Text Session
(up to 30 minutes: $60, up to 1 hour: $120)
or
Phone Call
(up to 30 minutes: $120, up to 1 hour: $240)
You want me to tell you what to do, to tell you all of the sexual favours you will perform to please me, to order you around, take what I want. You want me to tease and deny you, to humiliate / degrade you, play with you like you are my toy and do with you whatever I please.
Pay piggies: findom is always available. I will not hesitate to take your money.

-
Instagram Direct Message Domination
(up to 30 minutes: $120, up to 1 hour: $240)
Although, If you slip into my DM's, you had better prove yourself to be worthy of my attention.


-
Custom Fetish Videos
($100++, pricing varies, inquire via email)
Are you into feet, stockings, heels, latex, a sensual vintage-inspired striptease, etc.?
Custom recorded for you.
I do not show my full face in videos, however I can wear my latex hood that disguises my identity, but reveals my eyes and mouth as I speak to you.
-
For more information, send all inquiries by email to: serena.del.rey@protonmail.com .
Payments must be made ahead of time for all interactions & video content to be curated.
Payments are accepted via
Interac E-Transfer
or
Gift Cards to President's Choice (Loblaws) or Amazon.
E-Transfers and Gift Cards are to be sent to: serenadelreyto@gmail.com .
President's Choice (Loblaw's) Giftcard